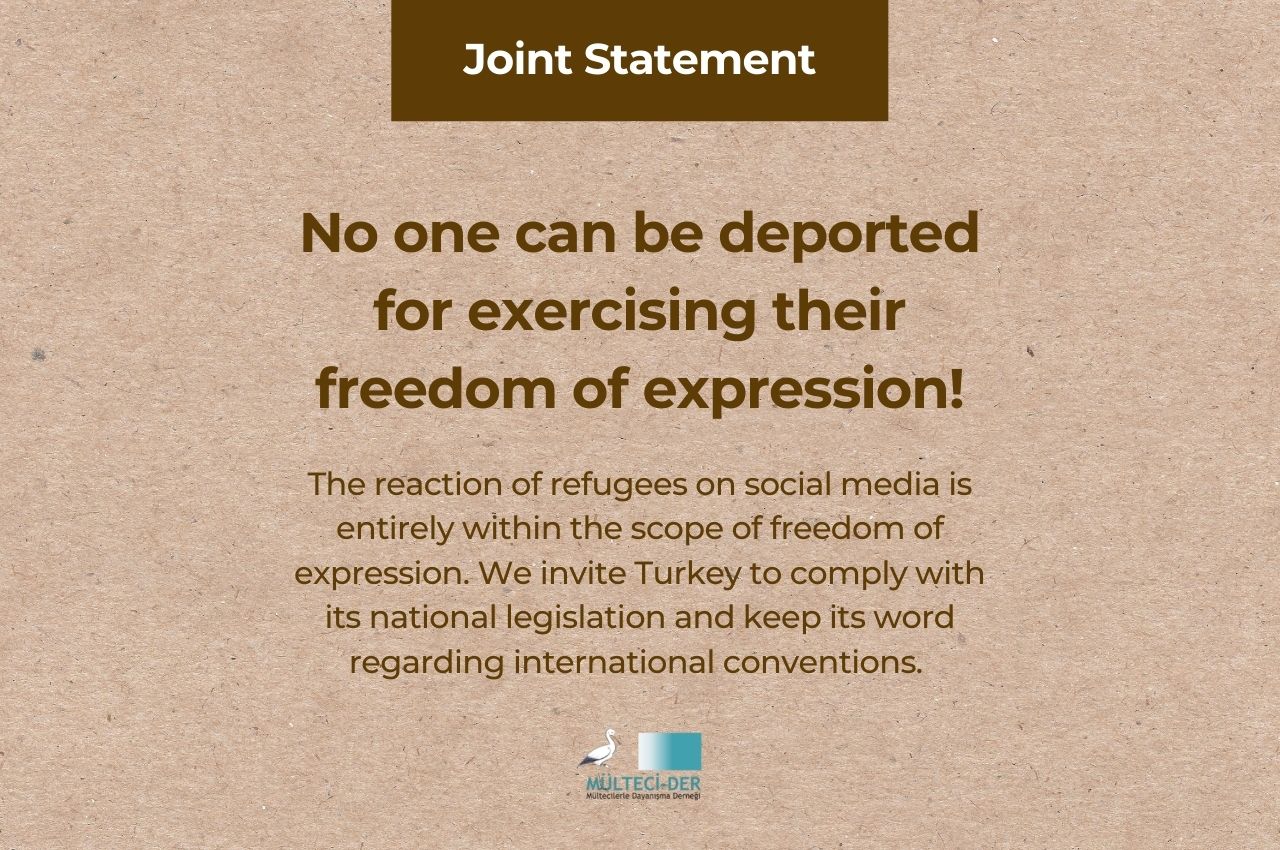 Activities
No one can be deported for exercising their freedom of expression!
No one can be deported for exercising their freedom of expression!
In response to the circulation of some statements from a street interview suggesting that refugees consume banana a lot while the Turkish citizens themselves cannot afford to buy any banana, some refugees shared social media videos of themselves eating bananas as a reaction.
Refugees have been targeted for years, particularly by the political circles and the media, as the sole source behind the deepening economic crisis in the country, which, without doubt, greatly contributed to the polarization between the refugee and local communities in Turkey. The ongoing lack in the formation of a discourse on peaceful coexistence with refugees, constitute the real cause behind today's tension. The Migration Management Presidency, in its press release on October 27, 2021, labelled the refugees who reacted with eating banana videos as "provocateurs" and announced that 7 persons would be deported. There were also news in the media that 11 people who shared "provocative" posts on the subject had been detained and that 31 people who posted these "provocative" videos had also been identified.
Turkey is a party to the European Convention on Human Rights; Article 10 of the Convention states that "Everyone has the right to freedom of expression. This right shall include freedom to hold opinions, to receive and impart information and ideas without interference by public authority and regardless of frontiers". Furthermore, according to Article 33 of the 1951 Geneva Convention on the Legal Status of Refugees, "No Contracting State shall expel or return ("refouler") a refugee in any manner whatsoever to the frontiers of territories where his life or freedom would be threatened on account of his race, religion, nationality, membership of a particular social group or political opinion." The state parties have no right to make any kind of reservation on this article.
Article 54 of the Law on Foreigners and International Protection No. 6458 specifies those who can be deported. An act which does not involve or encourage violence but expressing a reaction by eating a banana is not specified as a reason for deportation in any subparagraphs of Article 54 of the LFIP. The possibility of deeming an act as such, as a "threat to public order or public security", would be a heavy blow to freedom of expression. Article 54, which must be assessed with Article 55 (those who cannot be deported) as well as with Article 4 on the principle of non-refoulement, which is a mandatory provision allowing no exception. The latter articles explicitly decree that a deportation decision cannot be taken against a person due to sharing a banana-eating video or any non-violent post or expression. If there is a crime, it is posts that trigger a non-violent response and fuel discrimination and hate speech against refugees, which should be subjected to investigation.
The reaction of refugees on social media is entirely within the scope of freedom of expression and no one can be deported for exercising their freedom of expression. We invite Turkey to comply with its national legislation and keep its word regarding international conventions.  First of all, we demand that the deportation proceedings be stopped as soon as possible for those refugees who shared the said posts. In addition, we demand that the necessary judicial measures be taken against those who produce discriminatory discourse and hate speech against refugees at any time.
Signatory Institutions;
Eşitlik Çalışmaları Derneği
Fikir ve Sanat Derneği Çocuk Hakları Merkezi (FİSA)
Göç Araştırmaları Derneği (GAR)
Göçmen Dayanışma Derneği
Hak İnisiyatifi
Halkların Köprüsü Derneği
İltica ve Göç Araştırmaları Merkezi (İGAM)
İnsan Hakları Derneği (İHD)
İnsan Hakları Gündemi Derneği (İHGD)
İzmir Barosu
İzmir Kent Konseyi
Kaos-GL
Konak Kent Konseyi Mülteci Meclisi
Medya ve Göç Derneği
Mültecilerle Dayanışma Derneği (Mülteci-Der)
Özgürlükçü Hukukçular Derneği İzmir Şubesi (ÖHD)
Toplum ve Hukuk Araştırmaları Vakfı (TOHAV)
Van Barosu Göç ve İltica Komisyonu
Yurttaşlık Derneği